Legion, the next expansion to the longstanding MMORPG World of Warcraft is here and with it, comes the return of the Burning Legion, The ancient  enemy of Azeroth that has brought upon a blight threatening to devour the entire realm. Blizzard made their announcement for Legion today during a live presentation at the 2015 Gamescom conference in Germany. To give you guys a little taste of what the folks at Gamescom experienced this morning, we have included the brief teaser-trailer  that was featured during Blizzard's presentation upon the announcement that sets off the new expansion:
World of Warcraft: Legion, promises to be chock full of new additions and older callbacks that should be familiar to any players who are veterans in Warcraft lore. First and foremost for those of you who didn't catch it in the teaser trailer, a new hero class will been added to the game, The Demon Hunter. The list of other new additions to come is lengthy and we couldn't be happier! The new expansion will include features such as a new continent known as the Broken Isles, a boost to the level cap upping it to 110, new Dungeons, Raids, a completely overhauled PVP honor system, New Artifact Weapons, Class Order Halls, and much more.
During the announcement of Legion today, Blizzard also went into some specifics regarding what new features will be available to players prior to the launch of the expansion which is similar to what we saw occur with the latest expansion, Warlords of Draenor. A new event known as The Broken Shores will be open where players will be required to scour the Broken Isles for Titan tools known as the Pillars of Creation. Fabled artifacts such as the Doomhammer and Ashbringer will also be available to players as well as the new Class Orders.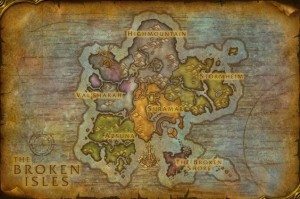 Prior to the expansion, Blizzard has stated that gamers will also have to fight their way through scores of demons in a new zone known as the Tomb of Sargeras which should come as a familiar name to most players. Dalaran will once again become the main city hub and players will also have access into the Emerald Nightmare, a corrupted area of the Emerald Dream. Callbacks such as Turalyon and Alleria will also be coming back with the addition of the new Expansion.
Blizzard has also stated that Beta testing for World of Warcraft: Legion will open later this year. For those that are intersted, Login in to your Battle.net account, go to "Beta Profile Settings," and then make sure your Warcraft option is checked, click Update and your all set for your eligibilty to be randomly selected once betta testing beings.
If you would like to check out more of the details concerning the expansion check out Blizzard's official page which launched today here. We are still waiting on further news regarding the official release date for World of Warcraft: Legion but we will continue to include updates regarding the expansion as they continue to filter in.