Aeria Games recently announced their latest free-to-play PC MMO: Dragomon Hunter, an anime-esque MMORPG where players travel through an expansive world filled with fantastical and ferocious creatures that they must track down and battle. Dragomon will feature over 100 different monsters to discover, a massive world to explore, and the ability to convert monsters that you have defeated into a mount.
Players will have the ability to team up with their friends to take a plunge into the immense fantasy world as one of four distinct classes: Cleric, Scout, Mercenary, or Mage. A player's success in Dragomon will rely heavily on their ability to work closely with their team to take down their beast adversaries. Each fallen Monster that is successfully taken down will drop raw materials and other items that can be used to craft and upgrade powerful weaponry and other equipment.
Over the weekend, Aeria Games released a fully interactive World Map Featuring 18 distinctive zones that players will be able to traverse through. Hunters will first begin their quest in the world's largest city known as Elysium. As their journey continues players will travel to diverse areas teaming with fantastical creatures from icy wastelands such as Everfrost Berg to the lush and dense forests of Wraithwood.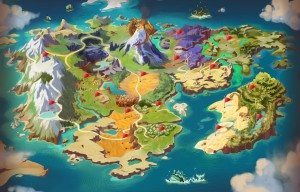 To get in on the monster-hunting action for yourself check out the official webpage here to sign in and start playing!